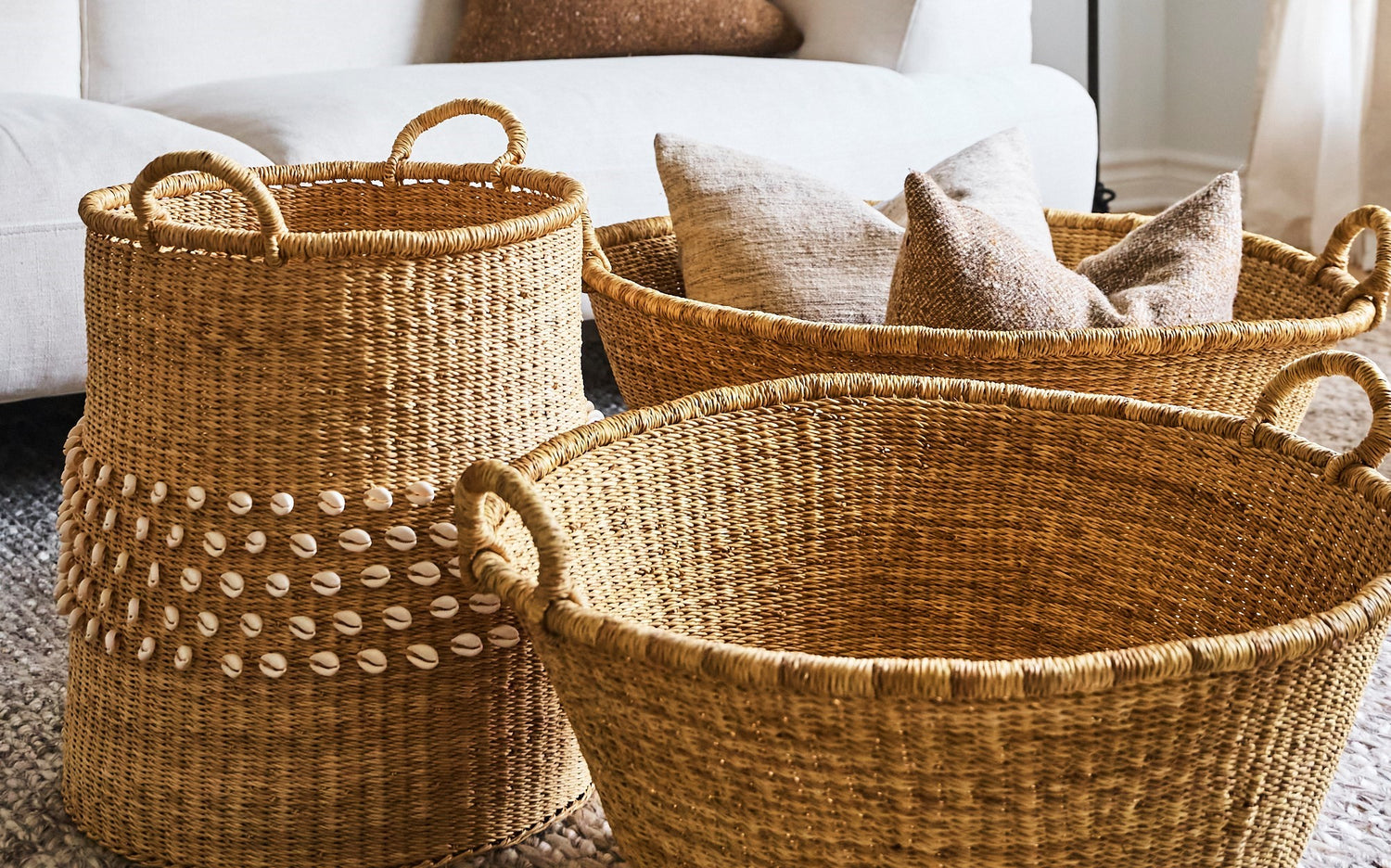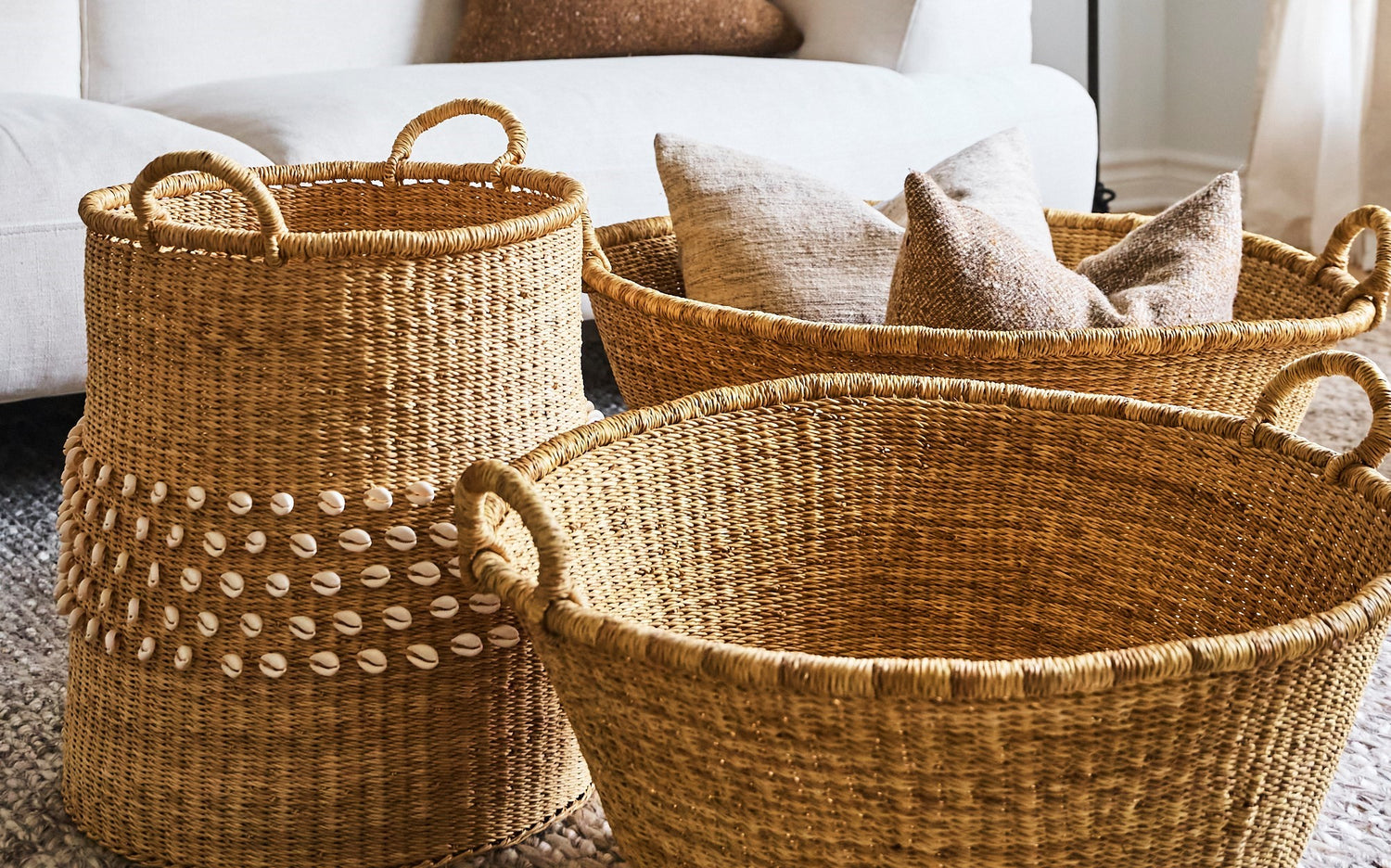 weave with us
Order Wholesale Bolga Baskets Online From Woven Worldwide
Faire is an online wholesale platform trusted by thousands of highly curated makers spanning a range of catergories from accesories to beauty, home decor and apparel.
Brick and mortar retailers recieve Net 60 terms that can be used towards your purchase with us. Buyers can confidently purchase our high-quality, Bolga basket collections with free returns on opening orders.
Get $100 off and 1 year of free shipping on Woven Worldwide Bolga baskets when you join Faire. Plus, enjoy 60-day payment terms on all orders with us.
Shop wholesale baskets
weave with us
Shop Wholesale Bolga Baskets
Our industry-standard baskets vary in popular colour variants, tactile patterns and functional design elements that effortlessly blend within modern or traditional homes alike. 
Kind Reviews From Our Wholesale Partners
Beautifully made baskets! These baskets are really well made and the colours are lovely. They are also really strong and sturdy. Customers are loving them. We will be back!

Will - The Hackney Draper
Absolutely Incredible Baskets! Incredibly impressed with the quality and beauty of these baskets. Love the stacking options and sizing. The fulfillment was quick and arrived quickly. Our customers loved these and we will be re-ordering shortly.

Alina - WKND
Robin - Puck and Abby LLC
Great designs. Helpful customer service.

S- Scrub Oak
Perfection! The care and attention that has gone into every item I've ordered is unparalleled. These are some of the most beautiful products I've seen.

Jennifer - Osisi Boutique
who we are
Woven Worldwide is a socially-conscious home decor brand specializing in high-quality, eco-credentialed, handcrafted baskets for homes and interior spaces.
our materials
Each handwoven item is meticulously crafted from elephant grass, a robust, renewable, tropical-scented grass that grows in bamboo-like clusters and does not require pesticides or fertilizers to grow.
We deliver more than just products. We deliver history and culture wrapped in products and cultural capital.
Can't find what you are looking for?
Have you visited a stockist location and something you would like to purchase is sold out? Send us an email and someone from our Customer Service team will get back to you as soon as possible.

Please email us at sales@wovenworldwide.com
FAQs
Weave With Us
We want to help you feel confident ordering and shipping with us.. Below we have answered some of the most common questions you might have about buying internationally.
How do I place an order on your Faire page?

Click this link, and you will be sent to your shop on Faire. If you don't already have a Faire account, claim our sign-up offer of US$100 off or the equivalent in local currency and 1 year of free shipping on your line, paid for by Faire.

After you sign up, easily place an order of high-quality Bolga baskets with all the benefits Faire has to offer, including 60-day payment terms.
What are the benefits of Net 60 payment terms?

Stores love buying with net 60 payment terms, since it allows them to order more inventory at a time.
My retail shop is not located in North America, can I still purchase your wholesale products?

Yes! Faire is currently only available to retailers in the United States (excluding US territories such as Puerto Rico, and the Virgin Islands)

Canada
United Kingdom (excluding Crown dependencies such as Guernsey, Jersey, The Isle of Man, and the British Virgin Islands, as well as British overseas territories such as Gibraltar)
Austria
Belgium
Denmark (excluding Greenland and Faroe Islands)
Finland
Metropolitan France
Germany
Ireland
Italy (excluding San Marin, Vatican City and Livigno)
Luxembourg
Netherlands (excluding the Caribbean municipalities/islands such as: Bonaire, Sint Eustatius, Saba, Curaçao, Aruba and Sint Maarten)
Norway
Portugal (excluding The Azores and Madeira)
Spain (excluding territories such as: Canary Islands, Ceuta and Melilla)
Sweden
Switzerland
Australia
Are retailers required to have an EORI?

While an EORI number is not required to checkout on Faire, having an EORI number helps prevent potential delays and storage fees if your order is unable to be processed by customs in a timely fashion.
Does Woven Worldwide produce their baskets with eco-friendly materials?

Elephant grass, our core raw material is a sustainable fibre, harvested from living sources. We do not use animal leathers at any time in our production and prefer cactus or apple skin as an environmentally friendly substitute.
Do you provide pre-orders ?

We allow retailers to schedule orders up to 6 months in advance. This will be indicated on the product page as well. Orders will be paid based off ship date.
Does Woven Worldwide provide custom design services ?

Yes! We will work together through a discovery process to reveal your product design intent.
Returns & Exchanges
We are happy to accept returns for items purchased directly from wovenworldwide.com only if your order was incorrectly shipped or an item is damaged. Please reach out to us within 7 days of delivery so we can help sort it out!
What is the return policy?

We are happy to accept returns for items purchased directly from wovenworldwide.com only if your order was incorrectly shipped or an item arrived damaged, please reach out to us within 7 days of delivery so we can help sort it out!

If you believe your item is faulty, or otherwise defective, we offer a 3-month warranty* from the date of purchase and would be happy to help you replace the item.  Contact us here and our customer support team will take care of you.  

Items must be in unused condition with all original tags and packaging intact to be eligible for a refund.

Items marked "final sale" are not eligible for return or exchange. All international shipments are considered final sale and are not eligible for return or exchange.
Shipping Policy
Do you ship internationally?

Yes, we do!  International orders are shipped with tracking via DHL and cost is calculated at checkout, based on weight and destination country.

Items shipped internationally are subject to import custom duties and taxes. The recipient of the shipment is the importer of record and must comply with all applicable laws and regulations. The customer is responsible for paying all taxes and duties, should they occur.
You Can Also Find Us Here
Follow Us On Linkedin

The best place to hear about our perspective of running a small business, women enablement and social impact!

follow us

Follow Us On Linkedin

The best place for our behind-the-scenes, fun in our design workshop, artisan stories and all things baskets!

Follow us

Follow Us On Pinterest

Take a look admire the spaces you create and likely want to see your take on home decor, design.

Follow us